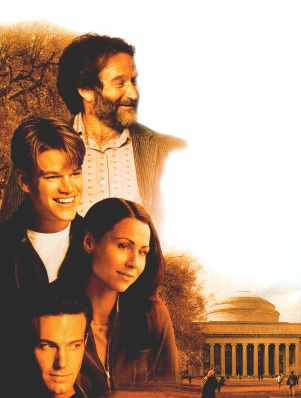 GOOD WILL HUNTING
With: Matt Damon, Robin Williams, Ben Affleck, Minnie Driver, Stellan Skarsgård

An MIT math professor (Skarsgård) writes an especially difficult problem on a blackboard for his whiz-kid students to solve. No one can figure it out. A young janitor (Damon) reads the problem while mopping the floor after class, cogitates over it briefly and then anonymously chalks in the answer. The professor then puts up a second, even tougher problem. Barely scrunching his brow, the janitor gets it right again.

The kid, it turns out, is a genius, right up there with Einstein. Named Will Hunting, he has a gift for mathematics that never stops giving. So how come Hunting is a janitor? It seems that he's an orphan who spent his formative years in abusive foster homes, has a chip as big as a house on his shoulder and a lengthy juvenile arrest record. With the help of an understanding therapist (Williams) and a loving girlfriend (Driver) who's studying premed at Harvard, Hunting has the chance to put his troubled past behind him and embrace his genius. Will he? Does 2+2=4?

It's part of the essential dishonesty of this movie that it so lopsidedly stacks the deck in favor of its hero. If he can just let Williams share his pain, and if he can conquer his tendency to start fights, he'll have the Pentagon and the Rand Corp. kissing his feet. Despite moving, effective performances by both Damon (who wrote the script with costar Affleck) and Williams, it doesn't take a genius to see that Good Will Hunting adds up to more of a feel-good fairy tale than a realistic, compelling drama.